By Sarah Keiser and Bo Laurent,
March, 2021
We need not ask if a fire will hit Sonoma County again but when. Our County is full of unmanaged forests, with massive understory and ladder fuels, as well as rural residential neighborhoods with heavy fuel load. Grazing with sheep or goats is a wonderful nature-based solution for wildfire mitigation. Nourishing the soil and building healthy grasslands and forest through the skilled management of grazing ruminants is a valuable and needed solution.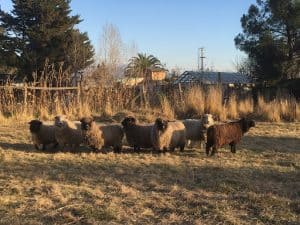 Bo Laurent lives in a rural residential neighborhood, and wanted to find an economical and sustainable way to reduce the fuel load on her property. She had heard that grazing is increasingly used in California, and she tried to find a way to get someone with animals to come and graze her 1.6 acres. Contract grazers either could not work with such a small parcel, or their fees were many times higher than the cost of annual mowing.
Then she was introduced to Sarah Keiser, who encouraged her to think of getting her own animals. Bo wondered if this would be a lot of work, or involve unexpected expenses, or if she would be unable to travel (after the pandemic, of course). Sarah has designed an approach for rural homeowners like Bo. "You can share the animals with your neighbors. I'll show you how to use inexpensive portable electric fencing to keep your animals in, and predators out. Sheep don't require daily care, just a simple check-in, and move them every few weeks to a different section of property. Because you will share with neighbors, your cost of the equipment will be reduced, and the flock can be at a neighbor's property when you are away. With modern portable fencing and a solar-powered fence energizer, you don't need to build expensive hard fencing. And I'll show you how to move animals down the street without a livestock trailer."
Five months later, Bo says that her property is now much better trimmed than it ever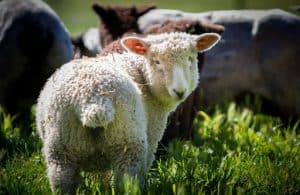 was with mowing. She's getting more pleasure from the land, she's fallen in love with the animals, and she has deepened her relationships with a growing number of her neighbors. We know that strong relationships are an important part of community resiliency. "When the flock was grazing close to the street, all I had to do was stand there and I would get into conversations with neighbors, whether they were walking or even driving by," she says. Those conversations have already resulted in a new family joining the coop.
Community grazing programs naturally address the issues of fire, safety, community resiliency and climate equity in a collaborative way, building morale and harmony in rural residential neighborhoods with creative grazing and agriculture methods. Sarah has found with her current grazing cooperatives a natural development within all participants of a larger ecological experience through the improved soil, increased plant diversity and enhanced aesthetics of their neighborhood. It is quite profound to witness the increase in awareness simply from the greater connection with the grazing animals and their positive impact. This connection to place creates greater responsibility to the environment and feeling like there is something we can actually do about climate change and our fire ecology. These changes may seem inadvertent or unplanned, but they are the natural and a powerful result of participating in a community grazing cooperative. 
________________________________________________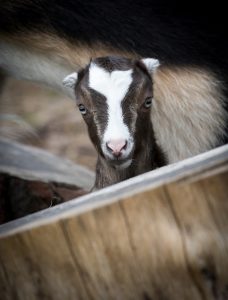 Sarah Keiser has been hired by Sonoma SASS (Safe Schools Safe Agriculture) to develop a larger, holistic vision of her Community Grazing Cooperative model to serve West Sonoma County residents. She has created the Community Grazing Cooperatives for Healthy, Fire-Safe, and Climate Smart Land Stewardship Project is an equity-based, grassroots, community-oriented solution that addresses the risk of fire, reduces the use of synthetic pesticides (herbicides), and builds resilience to high-risk communities within the Russian River Watershed. This project aims to catalyze a new intersectional land stewardship model that coordinates and deploys the recommendations of local tribal leadership on private working landscapes and is centered on creating a replicable design for subsequent broad-scale adoption by the county. The project's goals include developing core partnerships, deploying land stewardship methods, and documenting the successes and key learnings as a means to establish all necessary county objectives for fire resilience. County officials have publicly acknowledged the Intersectional Land Stewardship model's partners (even prior to execution) as an exciting and hopeful prospect that will help them create fire resilience throughout the county.
If you live in a rural residential community in Sonoma County and would like to find out whether a Community Grazing Cooperative is right for you, please contact Sarah Keiser ([email protected]   https://wildoathollow.com/community-grazing-cooperatives 707-332-5969). Because Sarah is funded by Globetrotters Foundation, Fibershed and Sonoma SASS she is able to support these projects at no charge. Or contact Bo ([email protected]) if you would like to visit her neighborhood's project.
If you own or manage a larger property, visit www.match.graze.com to find local contract grazers.
*Images provided by Bo Laurent and Sarah Keiser.