Congratulations to our President & CEO, Roberta MacIntyre for being the 2022 Harry Quinlan awardee.
She was sitting in the room with Sonoma County Fire Chiefs and Fire Prevention Officers at the most recent Chiefs Luncheon when she was surprised to hear her name called out as the awardee.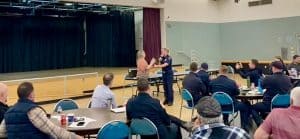 This is a special award. Named after Harry Quinlan, who started as a Volunteer Firefighter in 1963. He was promoted to Fire Marshal for the Roseland Fire Protection District before it incorporated with the Santa Rosa Fire Department. After incorporation, he served as a Fire Inspector and was instrumental in creating the city's hazardous material ordinance in 1985, which was groundbreaking in the state of California and became a model for other agencies. 
He was a pioneer in fire prevention. But was also soft spoken and polite and had a great sense of humor. He was known to love life with his family and friends. Roberta had the great honor to work alongside Harry Quinlan and admired and appreciated him and his role in the community and personally in her own life. Unfortunately, in 1993, Harry Quinlan passed unexpectedly at the height of his career. That same year, the Sonoma County Fire Prevention Officers Association created this award, named after him, to be presented each year to the person or group that has made great contributions to fire prevention in Sonoma County.
This year, that person is our very own Roberta MacIntyre and we are so proud of all that she has done. We are happy she had the moment to collect the award surrounded by applause and ovation. 
Additionally community members from across the county wrote messages to Roberta to share their gratitude for her which were presented to her in a photobook. Thank you to everyone who contributed! And thank you, thank, thank you Roberta MacIntyre for all that you have done over the years AND continue to do for fire prevention in Sonoma County!