Fire Safe Sonoma is partnering with the California Climate Action Corps and looking to hire two Wildfire Resiliency Fellows!
ABOUT CALIFORNIA CLIMATE ACTION CORPS (CCAC):
California Climate Action Corps (CCAC) is a national service program led by California Volunteers and implemented by Bay Area Community Resources (BACR) dedicated to advancing climate actions that engage community members, cultivate change, and leave a lasting impact.
CCAC is part of a larger statewide initiative to address the climate crisis by placing emerging leaders with local organizations to mobilize community members on direct climate action through education, volunteer engagement, and assessment with projects focused on urban greening, organic waste and edible food recovery, and wildfire resiliency.
Selected Fellows will serve 1700+ hours as AmeriCorps members over approximately eleven months, supporting community climate action, education, or assessment projects in target regions across the state. CCAC meets Californians where they are and provides meaningful opportunities for everyone to take climate action. For more information, please visit: https://www.californiavolunteers.ca.gov/about-california-climate-action-corps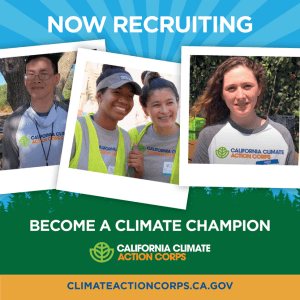 BENEFITS OF SERVICE:
Fellows serving with Fire Safe Sonoma will develop skills needed for the Wildland Fire Assessment Program (WFAP) and have access to the resources and training needed to receive a certificate. Fellow will develop their knowledge of wildland fire safety and best practices as well as expand their networks with fire service professionals, local governmental representatives and partner organizations working in this space (i.e. UCANR, RCD's, UC Master Gardens and more)
California Climate Action Corps Fall Fellows will receive the following benefits during their service term:
Receive up to $33,000 stipend (before taxes) distributed evenly over the service term
Receive $10,000 combined Segal Education Award and California For All Education Award (before taxes and upon completion of service)
Participation in 170-340 hours of training and professional development Receive food assistance via CalFresh (for those eligible)
Forbearance on existing qualifying student loans and interest payments accrued during the service term
Health plan benefits
Child care assistance from AmeriCorps to qualifying Fellows paid to an eligible provider of their choice
DESCRIPTION OF DUTIES:
Fellows serving with Fire Safe Sonoma will have two primary responsibilities: volunteer engagement and coordination; and program management for the Wildland Fire Assessment Program (WFAP).
Duties for this role may include, but are not limited to:
Assist in the coordination of volunteers in a multifaceted campaign effort involving social media content creation, Spanish translation, event organization, community work parties, and more

Manage marketing, promotion, intake, and data management for the Wildland Fire Assessment Program

Collaborate with partner organizations to conduct wildfire safety assessments and follow-up regarding defensible space and home hardening.

Assist in the creation and delivery of public awareness campaigns through social media, Constant Contact email announcements, website updates, and public presentations 

Manage the Listos Tool Trailer – a community resource for wildfire preparedness; this may include showcasing the trailer at events, maintaining power and hand tools, screening resource requests, scheduling trainings, ensure inventory and quality control, and reporting project progress to the Fire Safe Sonoma Board

Attend in person community events.

Organize monthly Speaker Series events, which would include scheduling speakers, creating promotional materials, setting up and monitoring Youtube live streams

Track program data and analyze results to quantify climate impact Participation in training not to exceed 20% (340-hours) of total service hours

Fellow duties will not include any prohibited or unallowable activities per 45 CFR § 2520.65
DESIRED QUALIFICATIONS/CHARACTERISTICS:
Experience in volunteer engagement; event coordination; community outreach; project management; public speaking/facilitation; and proficient in Spanish is an asset but not required.
A college degree, work experience, and/or an interest in climate change mitigation, volunteerism, or public service is preferred; other relevant experience is considered
Experience with outreach, education, training, or community behavior change
Fundamental understanding of climate change science, environmental policies in California, and/or environmental priorities focused on urban greening, organic waste and edible food recovery, and wildfire resiliency
Excellent organizational, writing, interpersonal, and speaking skills
Experience with social media platforms and content creation.
Experience with Google suite.
Self starter with the ability to work independently and as a part of the FSS team.
ABOUT BACR:
As the program implementation lead, Bay Area Community Resources (BACR) is responsible for the member's (Fellow's) recruitment and placement at the Host Partner Site listed above. BACR is the Implementing Agency that manages the Fellows' payroll and benefits. BACR cultivates an environment that encourages fairness, teamwork, and respect among all employees and National Service members.
BACR is firmly committed to maintaining an atmosphere in which people of diverse backgrounds and lifestyles may grow personally and professionally. Therefore, they enthusiastically accept the responsibility to make decisions without regard to race, religion or religious creed, color, age, sex, sexual orientation, gender identity, genetic information, national origin, marital status, medical condition, disability, military service, pregnancy, childbirth and related medical conditions, or any other classification protected by federal, state, or local laws or ordinances.
The BACR management team is dedicated to ensuring the fulfillment of this equal opportunity policy with respect to hiring, placement, promotion, transfer, demotion, layoff, termination, recruitment advertising, pay, and other forms of compensation, training, and general treatment during a Fellow's term of service.